SYSTEMATIC REVIEW REGISTER
JBI has developed a collection of world-class resources driven by the needs of health professionals and consumers worldwide.
Registration of Systematic Review Titles
Please note: this register is for the use of JBI affiliated entities ONLY. Registration of a systematic review title on the JBI website is to promote collaboration between affiliated entities via highlighting current work to other JBI review authors and to recognise that the registered topic is currently in development to avoid any unintended and/or unnecessary duplication of research effort.
Registered systematic reviews that are currently underway are listed below. Protocols for these reviews may already be published or in preparation for publication within six months of initial registration. To avoid duplication, titles in this list should not be replicated by other review authors. Please contact the listed Primary Reviewer or the JBI Synthesis Science Unit if you would like further information about any of these registered reviews.
Registration of titles on this web page does not in any way constitute acceptance of the topic by JBI Evidence Synthesis.
PDF icon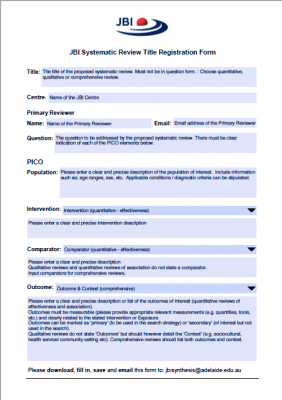 Download Heading
Download Systematic Review Title Registration form
Title
Certified authors
Collaborating Entity or Institution
Date registered
Custom text
The development and the use of gender-affirming online resources/games for transgender, non-binary, and intersex (GIaNT) children and youth: a scoping review protocol
Roya Haghiri-Vijeh
The University of Victoria (UVic) Centre for Evidence-Informed Nursing and Healthcare (CEiNHC): A JBI Center of Excellence

The University of Victoria (UVic) Centre for Evidence-Informed Nursing and Healthcare (CEiNHC): A JBI Center of Excellence

Roya Haghiri-Vijeh

Breaking bad news protocols in healthcare: a scoping review protocol
Ana Filipa dos Reis Marques Cardoso
Portugal Centre for Evidence Based Practice: A JBI Centre of Excellence

Portugal Centre for Evidence Based Practice: A JBI Centre of Excellence

Ana Filipa dos Reis Marques Cardoso

Perceptions and experiences of health care professionals and clients (patients and families) on using prognostic tools to predict mortality in older people living at home or in residential aged care facilities: a qualitative systematic review
Mayumi Omaya Nayanathara Perera Kumarage
The Centre for Evidence Informed Nursing, Midwifery and Healthcare Practice: A JBI Affiliated Group

The Centre for Evidence Informed Nursing, Midwifery and Healthcare Practice: A JBI Affiliated Group

Mayumi Omaya Nayanathara Perera Kumarage

Determinants of sarcopenia in liver cirrhosis: a systematic review
Damian Harding
JBI – The University of Adelaide

JBI – The University of Adelaide

Damian Harding

Effectiveness of eHealth early intervention programs to support premature parents transitioning from NICU to home on parental and infant outcomes: a systematic review protocol
Liliana Ferraz
Portugal Centre for Evidence Based Practice: A JBI Centre of Excellence

Portugal Centre for Evidence Based Practice: A JBI Centre of Excellence

Liliana Ferraz

Examine the roles of traditional Chinese medicine within interdisciplinary teams in predominantly western medical settings: a scoping review
Arkers Wong
Centre of Evidence-based Practice for Health Care Policy: A JBI Affiliated Group

Centre of Evidence-based Practice for Health Care Policy: A JBI Affiliated Group

Arkers Wong

The quality of the meals and foods provided to worker's food program beneficiaries: a systematic review
Fernanda Martins de Albuquerque
The Brazilian Centre for Evidence-based Healthcare: A JBI Centre of Excellence

The Brazilian Centre for Evidence-based Healthcare: A JBI Centre of Excellence

Fernanda Martins de Albuquerque

The difference in effect of osteopathic manipulative treatment in men and women on symptoms of irritable bowel syndrome: a systematic review
Anne Sauber
Touro University Nevada: A JBI Affiliated Group

Touro University Nevada: A JBI Affiliated Group

Anne Sauber

Coping strategies used by registered nurses in acute and critical care settings: a scoping review
Amina Silva
Queen's Collaboration for Health Care Quality: A JBI Centre of Excellence

Queen's Collaboration for Health Care Quality: A JBI Centre of Excellence

Amina Silva

A neurocognitive training approach to prevent non-contact anterior cruciate ligament injury in football: a scoping review
Rujuta Naik
The Nottingham Centre for Evidence-Based Healthcare: A JBI Centre of Excellence

The Nottingham Centre for Evidence-Based Healthcare: A JBI Centre of Excellence

Rujuta Naik
Centre
Primary Reviewer
Population
Intervention
Context