Evidence Implementation Training
JBI offers a range of evidence-based and practical short courses on evidence implementation for busy clinicians, managers, policy makers and quality managers.
The six-month JBI Evidence Implementation Training Program, the three-day JBI Evidence Implementation Workshop, and the one-day Clinical Leadership Workshop are designed for health professionals who are passionate about being a strategic contributor to organisational safety and quality by improving patient care, and who recognise the need to implement evidence into day-to-day clinical practice. 
JBI Evidence Implementation Workshop  
Seeking enhanced skills, knowledge and capacity to implement best practice using cutting edge techniques for evidence-based audit and feedback? 
This workshop introduces foundational requirements for rigorous, reliable implementation, including: 
Defining and integrating evidence into audit criteria 
The role of theories, models and frameworks within cyclic audit and feedback mechanisms for sustainable change 
JBI's Seven Phases of Evidence Implementation for individual or organisation-led practice change and quality improvement 
Proven strategies for pre-implementation planning, implementation and evaluation and sustainability of change 
Further develop their clinical leadership skills, strengths to evaluate personal and organisational culture and capacity for change, and 
An introduction to Endorsement: JBI's flagship approach to sustainable implementation of best practice and opportunity to engage in global partnerships to strengthen healthcare capacity. 
This three-day intensive workshop uses discussion, group and individual exercises to explore and explain strategies that promote evidence implementation and collaboratively develop understandings related to clinical leadership and change management in healthcare. The collective experience from our international JBI Collaboration will highlight issues involving context, facilitation and evaluation. 
The JBI Evidence Implementation Workshop is designed for health professionals, executive managers, audit managers, quality coordinators, data register managers, surveillance staff for aid agencies, WHO and resource groups, academics and students interested in building competency in the fundamentals of implementation.  
This short course includes the Clinical Leadership Workshop. 
JBI Evidence Implementation Training Program 
Want to get evidence into day-to-day clinical practice, improve the quality of care, or set up an evidence-based audit and feedback project within or across organisations?  
Are you passionate about integrating the best available evidence with quality improvement? 
The JBI Evidence Implementation Training Program is a 'hands on' programmatic, supported approach to practice change, providing attendees with proven approaches to implementing evidence into practice.  
During the program, in addition to the outcomes from the JBI Evidence Implementation Workshop, participants: 
are facilitated to develop evidence-based audit project proposals suited to a range of healthcare contexts at clinician-led, organisational or national levels, and 
gain experience working with theories, models and frameworks to guide the planning and implementation of best practice standards for patient care, policy and practice. 
The JBI Evidence Implementation Training Program includes complimentary access to JBI PACES and GRiP software to get research into practice, and to support and sustain improved quality of care. 
This six-month program includes the one-day Clinical Leadership Workshop. 
Study mode 
The JBI Evidence Implementation Training Program is a six-month, evidence-based implementation program comprising two five-day intensive training workshops and an evidence implementation project undertaken in the workplace over the intervening months.  
The two intensive five-day workshops provide participants with proven approaches to implementing evidence into practice and equip them with the knowledge, tools and resources to practically apply evidence in their own clinical settings through their evidence implementation project. 
Program participants are supported by JBI Implementation Science Research Fellows as they develop, complete and report on their evidence implementation project. 
Read testimonial from past participant, Amy Barzen RN
Scholarships available
JBI has invested heavily in its flagship evidence implementation training program, and is pleased to offer scholarships to health professionals who are currently working in a clinical setting for the March 2023 intake. 
Each scholarship is valued at AU$4,775, which is a 50% of the EITP course fee in 2023 offered by JBI, Adelaide, Australia.  The full program fee for the six-month JBI EITP is AU$9,550. Scholarships are available for the March 2023 intake.
The two, week-long intensive workshops are offered via remote attendance (via Zoom). Any other expenses incurred to attend the program run by JBI are not covered by the scholarship. 
Download the JBI EITP scholarships flyer
Apply for a scholarship by submitting an online scholarship application form
Key dates
JBI Clinical Leadership Workshop 
Participants engage with the practical leadership and change management skills, theories and strategies required to facilitate sustainable organisational uptake of best practice.  
This one-day workshop suits individuals or organisations seeking to develop current and future leaders with the skills and knowledge to drive and facilitate positive climate and culture improvements, contribute to strategic change management, and operationalise the evidence-based healthcare values of Culture, Capacity, Communication and Collaboration.  
The Clinical Leadership Workshop equips and empowers participants to: 
Analytically describe the nature of clinical leadership and compare and contrast existing models for organisational leadership 
Identify individual strengths and weaknesses as leaders with resources to guide future development of personal leadership strengths 
Act as an agent for change  
Provide skills in conflict resolution 
Maximise clinical leadership potential. 
Tailored Implementation Education  
These JBI Evidence Implementation Programs can be offered as bespoke, customised training in various delivery formats (in person or online), offered for larger groups, or tailored to organisational or team requirements. Our experienced trainers are passionate about evidence implementation, and working with you to facilitate and build capacity within your healthcare organisation. For more information, or to discuss your requirements, please contact [email protected] or complete the online request form and a JBI staff member will contact you.
Making an impact
The resources in different formats below provide some examples of how past participants of the JBI Evidence Implementation Training Program have made an impact in their clinical settings to improve health care and health outcomes around the world:
Impact story: Pre-treatment for breast cancer patients undergoing chemotherapy
Video: Improving quality of life for women with menorrhagia
Project report: Improving the capacity of healthcare professionals to stem the spread of COVID-19 in Kenya
Published implementation project: Nutrition and hydration management among stroke patients in inpatient rehabilitation: a best practice implementation project
Evidence Implementation short courses flyer
PDF icon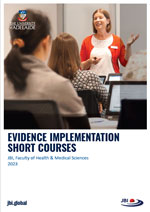 Download Heading
Evidence Implementation Short Course Flyer
Find out more about your JBI trainers