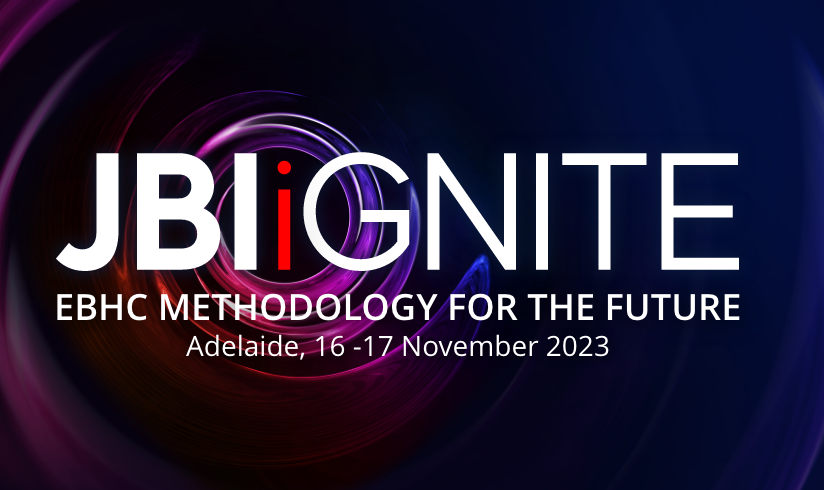 CALL FOR POSTERS
JBI invites you to apply to exhibit a research poster related to EBHC Methodology for the Future at JBI iGNITE Methodology Symposium.
The JBI iGNITE poster session provides a platform for discussing works in progress, new research directions, and challenges in EBHC Methodology. We invite poster abstracts that present new ideas, work in progress, discuss ongoing research directions, results of recently published papers (2022-2023) and present preliminary results for methodology research.
IMPORTANT DATES:
Submission deadline: 30 June 2023
Notification of poster acceptance: 17 July 2023
Early Bird Registration closes: 31 August 2023
Author confirmation/registration deadline: 28 August 2023
SUBMISSION GUIDELINES:
Abstracts should include the following:
Title of the poster
Author(s) names
A description for review (up to 500 words)
An abstract for the program (125 words)
SUBMIT ABSTRACT
Review process: Submitted posters will be reviewed by the Scientific Committee from 1 –14 July 2023. Notification will be sent on Monday 17 July 2023.
Upon acceptance: Accepted posters will be presented at the poster session, which will be held in person at the JBI iGNITE Symposium. At least one author of the poster presentation should register and attend the symposium to present the poster.
Detailed information about the poster presentation session, set up and pack down will be provided closer to the date.
WHAT IS A POSTER SESSION?
Poster sessions are a common feature of professional conferences, especially in fields where research and innovation play a major part. In general, posters presentations are less structured than a paper presentation, but they allow for greater and more detailed exchange of information and personal contact between the presenters and their audience.
The posters are typically set up in a designated room or area where conference attendees can walk around and look at all of them and speak with the presenters one-on-one about their work. Presenters may have handouts that summarize or expand upon the poster content
WHY WOULD I PRESENT A POSTER?
You can use a poster to quickly and effectively report findings from a recent study or project, discuss program outcomes and give updates on work in progress, or announce the launch of a new initiative. Well-designed posters convey important points and ideas quickly, and poster sessions are especially good at stimulating substantive interactions with your audience. If you've ever wished there was more time for Q&A during a panel, or wished you could just let your data speak for itself, a poster session is ideal. If you have a questionnaire to distribute or are seeking survey participants, poster sessions are a great place for that too!
POSTER GUIDANCE AND TEMPLATES
Poster sessions are a vital element of any scientific conference, providing attendees with the opportunity to browse important projects and topics and engage with lead authors directly.
To make posters more accessible for attendees with accessibility needs and English as a second language, please consider:
Big figures and text
Less clutter
Plain language
Clear reading order
Poster dimensions
The size of the poster should be A0 - 84.1cm (width) x 118.9cm (length) or 33.11 inches (width) x 46.81 inches (length).
The posters must be displayed in PORTRAIT format (NOT landscape).
Please do not exceed these dimensions. Posters that do not fall within size limitation cannot be posted.
Poster printing and transport
Posters MUST be printed prior to the event. Please bring it with you (as hard copy) to the Symposium.
The presenter must transport all materials to and from the venue.
There will be NO printing facilities available at the Symposium venue.
Design restrictions
All text should be in English.
Please ensure you create posters that are as professional and visually appealing as possible, and that you use a font size that can be read from an arm's length from the poster.
Please also check whether your organisation provides poster templates and has any brand guidelines that should be followed.
Mounting and dismounting
Presenters are responsible for mounting and dismounting their posters during the designated times, which you will receive at a later date.
Posters should be attached to the poster boards with Velcro, which will be provided to you.
Presenters should take down their posters by the end of the day that they are presenting. If posters are not collected by the end of the final day of the Symposium, they will be recycled.
Location
You will receive a map of the venue and presentation locations when you arrive.