SYSTEMATIC REVIEW REGISTER
The core of evidence synthesis is the systematic review of literature of a particular intervention, condition or issue.
Registration of Systematic Review Titles
Please note: this register is for the use of JBI affiliated entities ONLY. Registration of a systematic review title on the JBI website is to promote collaboration between affiliated entities via highlighting current work to other JBI review authors and to recognise that the registered topic is currently in development to avoid any unintended and/or unnecessary duplication of research effort.
Registered systematic reviews that are currently underway are listed below. Protocols for these reviews may already be published or in preparation for publication within six months of initial registration. To avoid duplication, titles in this list should not be replicated by other review authors. Please contact the listed Primary Reviewer or the JBI Synthesis Science Unit if you would like further information about any of these registered reviews.
Registration of titles on this web page does not in any way constitute acceptance of the topic by JBI Evidence Synthesis.
PDF icon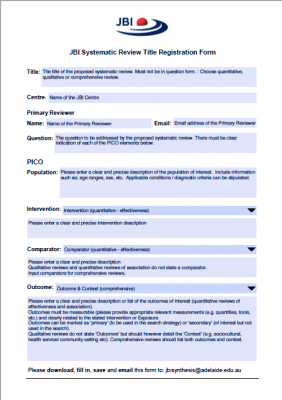 Download Icon

Download Heading
Download Systematic Review Title Registration form
Title
Certified authors
Collaborating Entity or Institution
Date registered
Custom text
The impact of latrine coverage and latrine use on prevalence of Active trachoma: a systematic review and meta-analysis
Thomas Ayalew
Jimma University, Ethiopia
2020-02-19

Jimma University, Ethiopia

Thomas Ayalew

Among children aged 1 to 9 years.

Exposure = Latrine Use/Latrine access/Open defecation
Association =The Odd ratio of trachoma reductio

Using wearable/mobile technology to promote healthy sleep behaviors in adolescent populations: a scoping review
Amy Beck
University of Calgary
2020-02-19

University of Calgary

Amy Beck

Adolescents aged 13 through 24. Mean or median age must fall within the age range 13-24. If both mean and median are presented, median will be used as the determining vote because it is more resistant to outliers. Studies that have examined a mixed sample of adults (>24 years old) and adolescents will only be included if subgroup analyses have been conducted on adolescents within the above-defined age range.

No specific intervention will be defined for inclusion in this scoping review, although the studies reviewed must: target adolescents between 13-24 years of age; be concerned with measuring or promoting sleep health, and be primarily delivered via mobile or wearable technology.

Effects of robotic-assisted gait training on objective biomechanical measures of gait in persons post-stroke: a systematic review
Heidi Nedergård
Umeå University, Sweden
2020-02-14

Umeå University, Sweden

Heidi Nedergård

Adults (≥18 years of age; both genders) that have performed RAGT in an acute, sub-acute or chronic phase post-stroke.

The effects of RAGT after stroke as evaluated with kinetic and/or kinematic measures of gait. The quantitative evaluation can include temporal or spatial gait parameters, or the kinematics and kinetics of one or several joints or parts of the body. The gait analysis was done before and after a training period, and was based on gait performance during treadmill or overground walking without the robotic device.

Cost effectiveness of medical nutrition therapy by dietitians for people with type 2 diabetes mellitus: a scoping review protocol
George Siopis
The University of Sydney
2020-02-12

The University of Sydney

George Siopis

Adults with type 2 diabetes mellitus receiving medical nutrition therapy by dietitians in developed countries.

Medical nutrition therapy conducted by an accredited dietitian.

Best practices to facilitate clinical education in nursing: a systematic review
Mrs Ndapunikwa Uukule
University of Namibia
2020-02-11

University of Namibia

Mrs Ndapunikwa Uukule

Relevant articles will be searched, guided by the words "clinical teaching of student nurses" and "facilitation of clinical education". The inclusion criteria are: Articles, policies and guidelines on the best practices of facilitating clinical education which are published from 2014 to 2019 will be consulted. Only original peer reviewed articles will be consulted. All types of study designs will be reviewed.

Description and understanding of best practices to facilitate clinical education of student nurses.

Simultaneous dual-task interventions for improving cognition in older adults: a scoping review of implementation relevant details
Natasha Versi
Charles Sturt University
2020-02-11

Charles Sturt University

Natasha Versi

This scoping review collates studies that include older adults within the following 3 categories of cognition: without cognitive impairment, mild cognitive impairment and dementia. This review does not include studies where participants have chronic illnesses or disabilities due to the research question. No other exclusion criteria have been added in regards to the population of interest

This review is solely focused on simultaneous dual-task interventions. Simultaneous dual-task interventions are described as participation in an activity that requires the person to engage physically and cognitively at the same time.

Reporting on the utilization of the strength training exercise descriptors after anterior cruciate ligament reconstruction: a scoping review
Arnold Vlok
University of the Free State (UFS)
2020-02-11

University of the Free State (UFS)

Arnold Vlok

Studies included in this scoping review will be ACLR patients with 1) an ACL reconstruction been done in isolation without other structural injuries to the knee joint or 2) either in combination with a medial menisci and/or lateral menisci repair. These study populations can either be male or female with a mean age of more than 14 years. Studies where the orthopeadic surgeon uses either patella tendon or hamstring tendon autografts for reconstruction purposes will be reckoned in the scoping review.

The quality of reporting within level 1-5 studies focusing on strength training as part of the ACLR intervention will be analyzed to inform research about the utilization of the strength training exercise descriptors during the intervention period.

Nudging preventive and control practices of neglected tropical diseases: a scoping review
Fiona Vande Velde
The Centre for Evidence-Based Public Health: A JBI Affiliated Group
2020-02-07

The Centre for Evidence-Based Public Health: A JBI Affiliated Group

Fiona Vande Velde

The scoping review will include all populations exposed to a nudge strategy related to behavioral practices for NTD prevention and control.

All nudge-type strategies will be reviewed, regardless of whether they include the explicit label of a 'nudge' or not. Moreover, this review aims to capture all behavioral practices leading to NTD prevention and control, and not merely aimed at targeting NTDs specifically. Therefore, strategies aimed at changing health-specific behaviors (e.g. hand washing behavior), although not focused on preventing or controlling a type or group of NTDs, will also be included in the review. Gathering information from other fields, such as behavioral studies in preventive healthcare, could provide new insights and future possibilities, and present.

The use of artificial intelligence in community-based primary healthcare: a scoping review
Samira Abbasgholizadeh-Rahimi
Department of Family Medicine, McGill University
2020-02-06

Department of Family Medicine, McGill University

Samira Abbasgholizadeh-Rahimi

- All primary health care providers (e.g. nurses, social workers, pharmacists, dietitians, public health care practitioners, physicians, (unregulated) community based workers) will be considered.
- All individuals who receive the community based primary health care services, irrespective of the individual demographics will be considered.
- All community based primary health care system units (e.g. community health centers, primary care networks, clinics, hospitals) will be considered.

Studies will be included if they focus on the branches/methods of Artificial intelligence based interventions, for example computer heuristics, expert systems, fuzzy logic, natural language processing, machine learning, support vector machine, neural network, deep learning, knowledge representation, metaheuristic approaches, automated reasoning, data mining, bayesian network, bayes network. Moreover, we will also include any study in which barriers/facilitators related to the implementation of artificial intelligence-based interventions were reported.

Utilization of modern contraceptives and associated factors among postpartum women in Ethiopia: a systematic review
Eskindir Tadesse Negash
Haramaya University, Ethiopia
2020-02-06

Haramaya University, Ethiopia

Eskindir Tadesse Negash

Postpartum women within 12 months of postpartum period.
Centre
Primary Reviewer
Population
Intervention
Context