SYSTEMATIC REVIEW REGISTER
The core of evidence synthesis is the systematic review of literature of a particular intervention, condition or issue.
Registration of Systematic Review Titles
Please note: this register is for the use of JBI affiliated entities ONLY. Registration of a systematic review title on the JBI website is to promote collaboration between affiliated entities via highlighting current work to other JBI review authors and to recognise that the registered topic is currently in development to avoid any unintended and/or unnecessary duplication of research effort.
Registered systematic reviews that are currently underway are listed below. Protocols for these reviews may already be published or in preparation for publication within six months of initial registration. To avoid duplication, titles in this list should not be replicated by other review authors. Please contact the listed Primary Reviewer or the JBI Synthesis Science Unit if you would like further information about any of these registered reviews.
Registration of titles on this web page does not in any way constitute acceptance of the topic by JBI Evidence Synthesis.
PDF icon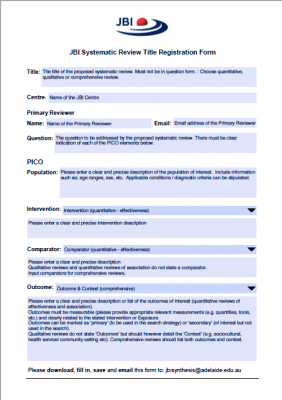 Download Icon

Download Heading
Download Systematic Review Title Registration form
Title
Certified authors
Collaborating Entity or Institution
Date registered
Custom text
Life experience of adult patient with advanced lung cancer: A systematic review and meta-synthesis

YI-CHEN LEE

Taiwan Evidence Based Practice Centre: A JBI Affiliated Group
2019-01-23

Taiwan Evidence Based Practice Centre: A JBI Affiliated Group

advanced lung cancer The third and fourth stage of lung cancer patients, aged (>35 years old including women and men).

Phenomena of interest (qualitative) life experience after diagnosis of lung cancer

Return home life

A systematic review of the palliative care to decrease the anxiety and depression of cancer patients : a systematic review of quantitative evidence.

Chang Yu-Min

Taiwan Evidence Based Practice Centre: A JBI Affiliated Group
2019-01-08

Taiwan Evidence Based Practice Centre: A JBI Affiliated Group

Quantitative- effectiveness, telephone interview a week to a month.
Using tool of HADS, Zung self-rating scale.


The use of essential oil in labor: a scoping review

Tatiane Herreira Trigueiro of Escola de Enfermagem da USP BRAZIL

The Brazilian Centre for Evidence-based Healthcare: A JBI Centre of Excellence
2018-08-02

The Brazilian Centre for Evidence-based Healthcare: A JBI Centre of Excellence

Tatiane Herreira Trigueiro of Escola de Enfermagem da USP BRAZIL

Delivery Rooms

Adverse Events and Cost Components Related To The Use Of Opioids In Postoperative Pain: A Scoping Review

Érica Brandão de Moraes

The Brazilian Centre for Evidence-based Healthcare: A JBI Centre of Excellence
2019-01-01

The Brazilian Centre for Evidence-based Healthcare: A JBI Centre of Excellence

Patient with postoperative pain

CONCEPT : adverse events; cost components

use of opioids

Experiences of transition to motherhood among pregnant women following assisted reproductive technology : a systematic review of qualitative evidence.
Kunie Maehara
The Chiba University Centre for Evidence Based Practice: A JBI Affiliated Group
2019-03-01

The Chiba University Centre for Evidence Based Practice: A JBI Affiliated Group

Kunie Maehara

Pregnant women following assisted reproductive technology

Phenomena of interest (qualitative) Experiences of transition to motherhood during pregnancy

This review will consider studies that investigate pregnant women's experiences of transition to motherhood following ART. We will include any setting where interview or observation is conducted.

Assessment instruments used for self-report of pain in stroke patients with communication problems: a scoping review

Petra Mandysova

The Czech Republic (Middle European) Centre for Evidence-Based Healthcare: A JBI Centre of Excellence
2019-03-07

The Czech Republic (Middle European) Centre for Evidence-Based Healthcare: A JBI Centre of Excellence

Male and female adults, aged 18-90, with medically diagnosed stroke who have communication problems affecting their language comprehension and/or speech production (aphasia, dysarthria, apraxia of speech, etc.)

Concept Assessment instruments used for self-report of pain, methodology of pain instrument development and/or translation, patient preference of pain instruments

Hospitalized patients (inpatient care)



The experiences of female refugees with HIV/AIDS seeking integration, nationalization, or resettlement: A qualitative systematic review

Donna Bulman

The University of New Brunswick (UNB) Saint John Collaboration for Evidence-Informed Healthcare: A JBI Centre of Excellence
2018-09-14

The University of New Brunswick (UNB) Saint John Collaboration for Evidence-Informed Healthcare: A JBI Centre of Excellence

Female refugees with HIV/AIDS

Comparator: None

Paediatric to Adult Transition as Experienced by Young Adults with Complex Care Needs: A Scoping Review

Monique Cassidy

The University of New Brunswick (UNB) Saint John Collaboration for Evidence-Informed Healthcare: A JBI Affiliated Group
2019-01-07

The University of New Brunswick (UNB) Saint John Collaboration for Evidence-Informed Healthcare: A JBI Affiliated Group

The population focus is on the transition experiences of young adults with any complex care needs aged 18-25 whom have recently transitioned from the paediatric system to the adult system. The review will not be specific to any condition, sex, ethnicity, or other demographic variable.

Concept: The main concept is Young Adulthood (YA) with complex care needs (CCN). YA will be defined as aged 18-25 whom have recently transitioned from their paediatric care provider to the adult system. The secondary concept is transition experience. "Transition" to adulthood from the paediatric system is defined as, "a one-time event that occurs when a youth is transferred out of the child health system and into the adult care system," and their experience is "the understanding (knowledge) and value to each person's situation and history; evolved from sharing stories and direct communication" (CAPHC, 2016). For the purposes of this review, transition experience refers to the medical, structural, psychological, sociological and/or relationship outcome knowledge produced as a result of the research literature's' intended qualitative and quantitative goals.

The review will consider transition experiences of young adults with complex care needs in all settings, such as hospital, clinic, or community-based and across all sectors (health, education and social services). There will not be any geographic or complex care need specific type of exclusion limitations placed on this review as the intent is to explore transition experiences in all settings and locations. The scoping review will consider all study designs including qualitative studies (i.e. phenomenology, grounded theory, ethnography, and qualitative description). In addition, systematic reviews will be considered. Other literature, such as unpublished papers and/or evaluation reports, will also be considered for inclusion in this scoping review.

The preventative health work of vaccine-hesitant and refusing caregivers : a systematic review of qualitative evidence.

Christine Huel

The University of Victoria (UVic) Centre for Evidence-Informed Nursing and Healthcare (CEiNHC): A JBI Affiliated Group
2018-11-09

The University of Victoria (UVic) Centre for Evidence-Informed Nursing and Healthcare (CEiNHC): A JBI Affiliated Group

Parents or caregivers of infants and children who refuse vaccines or are vaccine-hesitant.

Phenomena of interest (qualitative) 'Preventative health work' describes an array of decisions and actions caregivers/parents might consider and enact to protect their children from vaccine-preventable communicable disease. The word "work" refers to anything a person may do that takes time, effort, and intent, instead of the traditional definition of what one is paid to do (Smith, 2005).

Context for this review will be English speaking caregivers/parents from Canada, The United States, United Kingdom, Australia, and New Zealand.

Smith, D. E. (2005). Institutional Ethnography: A sociology for people. Lanham, MD: Rowman & Littlefield Publishers, Inc.


Experiences of Nurses Caring for Maternal Immigrant and Refugee Women: A Qualitative Systematic Review

Shahin Kassam

The University of Victoria (UVic) Centre for Evidence-Informed Nursing and Healthcare (CEiNHC): A JBI Affiliated Group
2018-12-14

The University of Victoria (UVic) Centre for Evidence-Informed Nursing and Healthcare (CEiNHC): A JBI Affiliated Group

Nurses who work in various healthcare environments and care for pregnant and/or mothering immigrant and refugee .women

Phenomena of interest (qualitative) The experience of caring for pregnant and/or mothering immigrant and refugee women

Various healthcare contexts
Centre
Primary Reviewer
Population
Intervention
Context